OSS Watch, supported by Jisc, has conducted the National Software Survey roughly every two years since 2003. The survey studies the status of open and closed source software in both Further Education (FE) and Higher Education (HE) institutions in the UK. OSS Watch is a non-advocacy information service covering free and open source software. We do not necessarily advocate the adoption of free and open source software. We do however advocate the consideration of all viable software solutions – free or constrained, open or closed – as the best means of achieving value for money during procurement.
Throughout this report the term "open source" is used for brevity's sake to indicate both free software and open source software.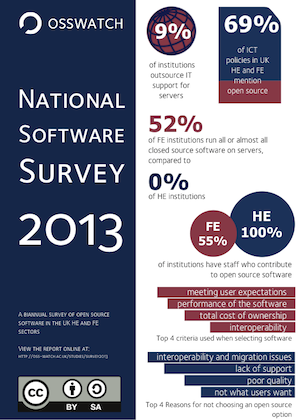 Looking back over 10 years of surveys, we can see how open source has grown in terms of its impact on ICT in the HE and FE sectors. For example, when we first ran our survey in 2003, the term "open source" was to be found in only 30% of ICT policies – and in some of those it was because open source software was prohibited! In our 2013 survey we now find open source considered as an option in the majority of institutions.
Open source software has also grown as an option for procurement; while only a small number of institutions use mostly open source software, all institutions now report they use a mix of open source and closed source.
However, the picture is not all positive for open source advocates, and we've noticed the differences between HE and FE becoming more pronounced.
You can read the full report online, or download the PDF from the OSS Watch website.